Coronary Artery Bypass Surgery has become so common today that most of the people would be knowing at least one person in relations or neighborhood who has undergone CABG. Heart Disease along with diabetes is taking an epidemic form. Most common factors which may lead to Coronary Artery blockage are – Diabetes, Hypertension, lack of exercise, obesity, smoking and a strong family history. A person commonly experiences heavy feeling in the chest or a gas like symptoms during exercise or a gas like symptoms during exercise or exertion. Lot of people reduces their speed of walking to circumvent this.
Coronary Angiography is must to know the extent of disease and to plan the treatment. If there is blockage in one or two arteries Angioplasty commonly known as stent placing is done. If there are more number of blockages then CABG operation is advised.
Coronary Artery Bypass Grafting is a method where surgeons bypass the blocked arteries using patients own artery or vein. Normally this operation is done with the help of heart lung machine and the heart is stopped.
Recently (10-15 yrs) beating heart surgery is being done. Dr Sinha is one of the pioneers in beating heart surgery having started operation in 1995-96. Here heart lung machine is not used, heart is not stopped. This results in faster recovery. Having done thousands of cases he has special expertise in using all arteries for bypass.
Minimal Invasive Coronary Bypass Graft Surgery, also called Totally Endoscopic Coronary Artery Bypass (TECAB)
The minimal invasive CABG surgery reduces surgical trauma to patient & benefiting in many way as compared to open surgery which requires large incision made down the sternum (also called breastbone) to reach the heart of a patient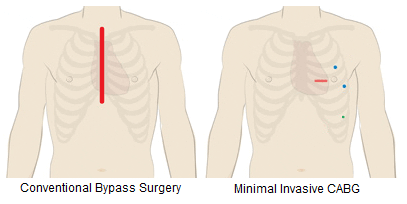 Advantages of Minimal Invasive Coronary Bypass Graft Surgery
Patient require less medication for reducing pain & experience minimal pain & discomfort
Scarring to incision site is small & less
Patient required to stay at hospital for shorter duration
Recovery patient is fast & faster return to normal activities (within two to three weeks for procedure)
Less blood lost & less requirement of blood transfusions
Reducing the risk of infection
Longer functioning of bypass grafts
No blood-thinning medicine is need post surgery, except Asprin
Dr S K Sinha, ex Director of CTVS (Max Super Speciality Hospital Saket, New Delhi), currently Director – Cardiac Sciences, Paras Hospital, Gurgaon & Bihar. With his multi-disciplinary team of medical specialists, which includes cardiologist, cardiac surgeon, anesthesiologist and nursing staff, committed to provide best cares to cardiac patients who require heart surgery. Dr Sinha uses innovative & world's latest surgical technique, such as minimally invasive heart surgery or cardiac surgery in delhi, resulting in most safe, reliable and coronary bypass surgery in delhi with a fast recovery period with any age group of patients.
Dr S K Sinha, one of the best Heart Surgeon in India, operates in one of the best state of the art infrastructure with the support best technology of medical equipments giving world class medical care to his patients with personalized touch.